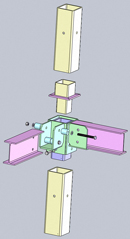 STRUCTURAL JOINT WITHIN MODULAR MEZZANINE FLOORING SYSTEM. THIS IS A CONCEPTUAL DESIGN FOR A CLIENT.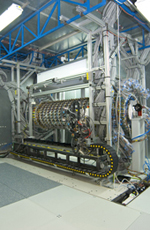 LOW OPERATING TEMPERATURE ANTI-STATIC, RAISED ACCESS FLOORING SYSTEM. ATLAS DETECTOR, LARGE HADRON COLLIDER PROJECT.

41mm Channel brackets & flooring systems
(Patented Application No. 9806854.7)

41mm channel bracket system
As part of our electrical, instrumentation and mechanical installation work we employed Unistrut® and similar type 41mm channel. However, we found the base plates somewhat lacking in our applications and came up with the design for a considerably more substantial socket design for a base plate, which evolved into a complete range of 41mm channel brackets which we called 'MAC50'. The '50' relating to the 50x50x3mm box section used to fabricate the various brackets and base plates (please go to the downloads page to obtain the MAC50 catalogue).

Raised access flooring systems
Following the launch of the MAC50 system, we produced a raised access flooring system. It followed that a 150mm base place could simply be inverted to form a surface to which 41mm channel could easily be secured. Various floor panels can be attached to the channel using clips and screw fastenings. Our raised access flooring systems have been designed and manufactured indirectly for CERN Laboratories (see photograph of the ATLAS detector, part of the Large Hadron Collider Project) and both the Nigerian and Malaysian Governments.

Mezzanine flooring systems
Following the above successes, an overseas client asked us to consider the design of a much more substantial modular mezzanine flooring system. The 3D general assembly and exploded views shown to the left are the initial conceptual design ideas. These design concepts are covered by copyright.

Manufacturing tooling and fixtures
To permit swift and efficient manufacture of our various mechanical components we designed and manufactured various punch tools for use with up to 12mm stainless steel and 25mm mild steel plate, box and angle sections. Welding fixtures have also be developed. We design and produce manufacturing tooling for both our internal use and our clients' use.

Consultant design services and manufacturing options
We can work alone or in collaboration to design parts or systems at our clients direction. Should you require the manufacture of small or larger quantities of pressed, welded or CNC machined parts this can be accommodated.



THE ABOVE IMAGES SHOW VARIOUS APPLICATIONS OF OUR 50MM BRACKETS AND BASE PLATES
FOR USE WITH 41MM STRUT CHANNEL. SPECIFICALLY RAISED ACCESS FLOORING; SUPPORT HAND RAILS; BRACKETS AND BASE PLATES AND THE PHOTOGRAPH ON THE RIGHT SHOWS OUR BRACKETS ON DISPLAY AT A MAJOR INTERNATIONAL EXHIBITION.



Unistrut® is a trade name owned by Tyco International Ltd.